Impact-driven growth strategy
Our impact-driven growth strategy is based on making sustainable impact by providing impactful solutions that help companies grow. With our strategy we target profitable growth and a position as a leading European martech service provider.
See Strategy morning materials here.
Our strategic and financial targets
Avidly's Board of Directors has defined the following strategic targets for the 2021–2025 strategy period:
to have the most loyal customers
to be the best place to work
to be a thought leader
to grow profitably.
In addition, the Board has revised Avidly's financial targets as follows:
Previous financial targets for the period 2019–2024
(issued on 30 January 2019)
Revised financial targets for the period 2021–2025
(issued on 11 December 2020)

Growth

Annual organic revenue growth exceeding 25% and overall revenue growth exceeding 40%.
Revenue exceeding EUR 100 million by 2024

Growth

Organic growth target +10% annually, higher international speed of growth
Revenue exceeding EUR 50 million by 2025.

Profitability

Annual EBIT margin of 2–7% despite the rapid growth.

Profitability

Deliver positive adjusted EBIT (EBITA*) in 2021
Reach adjusted EBIT (EBITA*) of min. 10% in FY 2025

Dividend policy

Avidly may distribute at the most 50% of its annual net result as dividends during the strategy period of 2019–2024 given that distribution of the dividends does not affect Avidly's capability on reaching its growth targets for the period of 2019–2024.

Dividend policy

The Company's aim is to use Net Profit for growth investments and not to distribute dividends until further notice
* EBITA = EBIT added with depreciations and impairments on acquisitions
See further details on financial targets and past performance under Financial Information.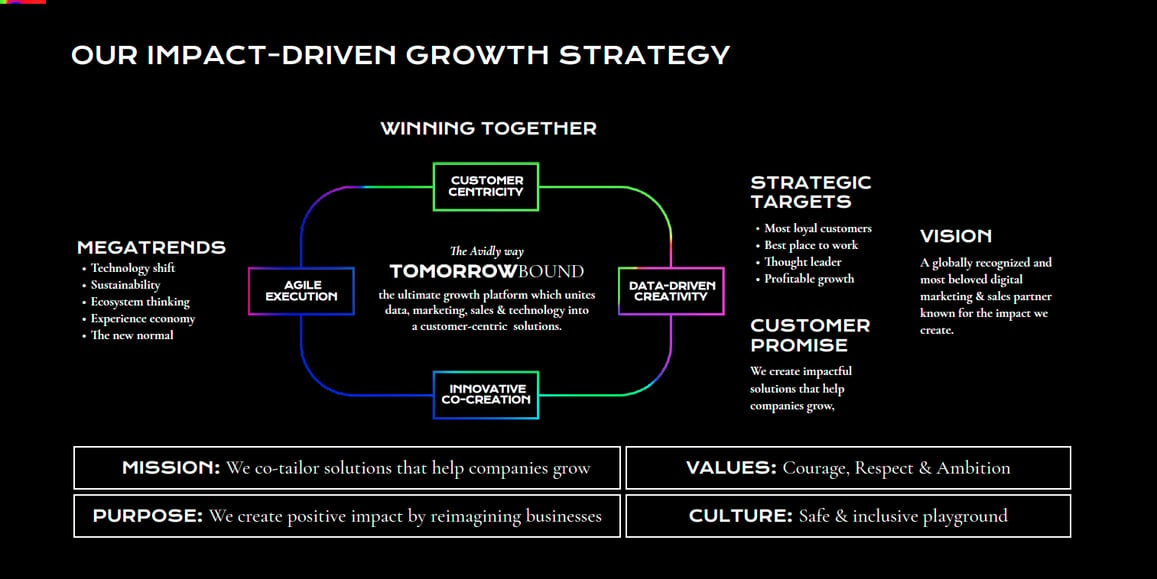 Delivering future growth
As a part of our strategy work we have recognised three key opportunities to grow. They are market expansion, service expansion and general martech market growth. We seek growth also by building our Avidly growth platform and investing in our people's skills, our operational models and brand.

Strategy videos
Our top management and specialists discuss our strategy themes on videos below:
Foreword to strategy videos by Jesse Maula, CEO
Key strategy theme: Trends in our business environment, Ismo Nikkola

, Chief Strategy Officer, Deputy CEO, and

Reetta Kataja

, Strategist

Key strategy theme: Reporting and Global software platforms, Hans Parvikoski, CFO
Key strategy theme: BI and business solutions, Achim B.C. Karpf, Senior Managing Director
Key strategy theme: Brand, Teea Björklund, COO, Finland
Key strategy theme: Customer-centricity, Maja Haavet, Senior Advisor and Strategist, and Kristine Hansen, Country Manager, Norway
Key strategy theme: Data-driven growth hacking, Henri Pallonen

, Team Lead, Digital Growth, and

Tommi Laaksonen

, Growth Strategist

Key strategy theme: HubSpot in 2021 and beyond, Jeppe Houman Nyrup, Head of Strategic Partnerships
Key strategy theme: Data, Anna Salo, Head of Operations, Helsinki
Key strategy theme: Data Integration, Jonaz Kumlander,

Head of new ideas and innovation, Country Manager Sweden

Key strategy theme: Content and storytelling, Sirpa Alhava, Vice President, Content Business
Key strategy theme: Digital training - Avidly Academy, Johanna Sjölin, Inbound Strategist and Digital Trainer
Key strategy theme: Creativity, Jufo Peltomaa, Chief Creative Officer
The following videos will be published in early 2021 on this site:
Key strategy theme: Forecasting and scenarios, Minna Utriainen, Creative Innovation Lead
Key strategy theme: Sustainability, Jenni Forsblom, Planner
Key strategy theme: Modern sales including CRM and sales enablement, Barbro Fagerbakk, Chief Revenue Officer
Strategy Q&A
We have collected some questions with answers to this Q&A document.
Do you have an additional question on our strategy? Please submit it and we will answer by email.